2021-2022: Freight Frenzy
Thank you for following along on our second FIRST Tech Challenge Season. We are an all girls team in NW Montana. At the 2021 #UltimateGoal State Championship, we were the 2nd ranked robot, 2nd place Inspire, Motivate Award winner and Promote Award winner. #FIRSTForward #FreightFrenzy
This page is arranged chronologically, newest at the top.
---
11/19/21 – FTC Offical World Championship News!
It was announced last week that there would only be one World Championship event in Houston rather than also having a second in Detroit. What they didn't say was how bids to Worlds would be handled with a reduced footprint. Normal team counts are 160 for each event.
New update today, each region (Montana is a region) will send 2 teams to worlds. Another 10 spots will be available based on a formula around average teams participating in the past, which won't affect us. If a region is unable to send teams, their spots will also be distributed similarly. 160 teams total, half of the total count normally advancing in a season.
For small regions like MT or ID that only get 1 spot, it's nice to get a second. Regions like UT that had 2, stay the same. Larger regions (most) are seeing a decrease. The frustration on Discord and Reddit are already easy to see. The need to consolidate resources for only one event, makes sense…. and the frustration of fewer teams advancing is also understandable. No doubt it wasn't wasn't an easy decision for FIRST to make. #FIRSTchampionship
---
11/17/21 – SWAE Outreach & Spot the Boston Dynamics Robot Dog
Wow! And that doesn't begin to cover it! We visited SWAE last night. They work in tech textiles and modify some pretty epic equipment.
Their current problem-solving adventure is figuring out how to protect the joints on Spot the Boston Dynamics Robot Dog. They asked us to come up with ideas to help, so we did some research and brought a couple concepts along. Everyone got to drive Spot and we had so much fun.
SWAE is also working on body modifications for a Lamborghini SUV and a McLaren. They have a completed Lamborghini in the shop that they built a custom carbon fiber body that has gold woven into it. They explained their 3D printing and powdered steel technology as well. It was all very impressive! We shared about FIRST, our robot Grover and we got to drive Grover around their nice floor. We didn't know Grover could drift, but he can! Special thanks to Gail Linne for suggesting the field trip.
---
11/10 & 11/14/21 – Still building… and a new mentor!
Positioning our arm is proving to be a challenge, but we think we've got it now. Our intake bucket is now in its first coroplast iteration (no more cardboard). We've decided to change from gecko wheels to leather flaps, a strategy kind of like automated carwash brushes. We will be visiting a local leather shop on Friday 11/19. We have an exciting outreach coming up on 11/17 (more to come) and we acquired a new team mentor this week, Jack Rumple who moved up here recently from CO. He previously worked with FRC 4418 Impulse for 5 years. We are thankful to have his expertise to help our team.
---
11/7/21 – Robot build, Drive Practice and Zooms
Today was a day for sisterhood outreach! We started our Sunday on a Zoom meeting with Girl Scout FLL team Tuxedo Leopards from Casper, WY. They gave their rough innovation project presentation/outline and showed us their prototype. They've got a great idea. We asked them judge type questions to help them flesh out their presentation, and gave presentation and interview pointers.
After lunch we worked on the robot, with a goal of having the arm attached and being able to test the carousel spinner using the remote control. We figured out that the sticky worm gear has something to do with the encoder, cable was fine, so it's either the port on the control hub, the motor encoder itself, or something in our program, we'll mess with that later. At the moment we settled on removing the encoder cable and we'll install touch sensors to help keep the arm within limits. Didn't get the arm attached yet, but we were able to test the spinner. The carousel spinner does work but in practice the gecko wheel kind of bounces the robot backward with our easy-to-scoot chassis. We may try a different kind of wheel.
Then we were joined on Zoom by Girl Scout FTC team 14822 RoboGirls. They were anxious to talk about autonomous, but we just aren't there yet. Their programmer is hard at work trying to write their code. We talked about needing multiple autonomous programs for the 4 different positions on the board and each needing code branches for the bar code randomization. We'll be better able to help once we dive into autonomous, which will be this coming week.
In other news, our qualifier has been moved from Nov 20th, to……we don't know. We are anxiously awaiting a survey from our FIRST Partner. At this point, there's Thanksgiving, then our coach is gone for 2 weeks, and Christmas is only a week after that. So, we are pulling for early-mid January. Our state tournament may also be up in the air, it's tentatively 2/25.
---
11/4/21 – Outreach at West Valley
Mr. Honcoop, the middle school science teacher at West Valley, started teaching LEGO robotics as an elective class. Coach Krista noticed they registered a team for FLL and asked if we were interested in helping them. She emailed and now we are mentoring the 7th and 8th graders. They have a lot of kids in the class and are meeting one evening a week to get in extra build time. We shared about our FLL experience, what judges are looking for, and what makes a good presentation. We walked around the room and helped the teams and gave feedback as they worked on their robots. It sounds like we'll go back again in a couple weeks and see how things are going.
---
11/3/21 – Buggy Worm
Every motor, servo, and controller button we are currently planning to use, is coded for. Yay! But we have a problem, our worm gearbox is sticking. We broke it down all the way to the bare motor shaft and it's still doing it. We reached out to goBilda to see what they recommend.
---
10/31/21 – Halloween
Kennedy suggested a Halloween party for our 10/31 meeting. We brought snacks to share at robotics and watched Hocus Pocus. In attendance were a Skeleton, a Witch, a Minion, a Tired Teenager, & Harley Quinn.
---
10/28/21 – Katie earns her white lab coat
In our high schools, when a student completes 2.5 years of biomed courses, they earn a white coat. Yay Katie!!!
---
10/22/21 – Work on Grover's appendages continues
No school day!!! The carousel spinner is attached and it works!!! Lexi got the worm gearbox built for lifting the extension arm and Kennedy is plugging away at the intake between school musical practices.
---
10/20/21 – Grover v1.0 chassis drive and carousel tests
The walls are around the game floor and we finally have a drivable chassis! Never mind the masking tape holding the battery on, or the crazy driving. We did add faster drivetrain motors this year compared to last year. We may need to slow it down in the programming until we get the hang of how zippy it is. 🙂
Katie spent some time updating the config file and teleop program. In our moment of after-school silliness, we have named all of our ducks and applied facial expressions. Yes, we named the one on the right "Dinner".
---
10/17/21 – Sunday Funday
Build build build on either side of a crazy game of Exploding Kittens! Jessie forgot the direction of play and had to wear the "cone of shame". We also have a working carousel spinner!
---
10/13/21 – Let the build begin
Busy busy builders. Lexi started building the extension arm. Katie and Zia started working on the new chassis. Jessie started working on the cardboard prototype for the box for our intake. Kennedy started working on the intake mechanism. Everyone worked together to get the floor assembled, cleaned, and taped.
AND, we have a name for our robot……………. GROVER!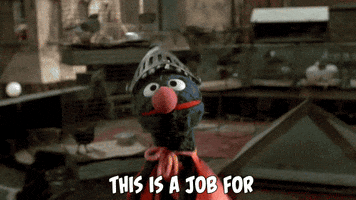 ---
10/10/21 – What do we have here?
The only good thing about no practice for 3 weeks, is the parts on our wishlist had time to arrive. We made a mess opening stuff up, but it's a sign of progress. Katie brought in several autonomous path ideas. We all had a good laugh about AndyMark's packaging, um…. we'd like Pepperoni with Extra Cheese and a Goat please!
---
10/1/21 – Girl Scout Fall Nut & Candy Sales
If anyone wants to order candy, our annual fall fundraiser is going on now. Proceeds from nut and candy sales help our team with equipment, parts, travel, and troop activities. Thank you for your support! Visit any of our online stores to order through November 17th:
---
9/29/21 – COVID got us on pause
3 of us are down with COVID — UGH! We had a zoom meeting on 9/29 to talk about the newly arrived field elements. We were joined by RoboGirls 14822 from Spokane. It was nice to "see" them. They are also excited about the new season. We all talked about component brainstorming and strategy. Here's Vader the pug with our team shipping hub.
---
9/18-19/2021 – Kickoff weekend is here!
2021-2022 Freight Frenzy Game Animation
Things we learned:
We are either going over the barrier or around it – it will be interesting to see how teams approach the barrier as we see robots develop and tournaments happen.
Robots can only hold one piece of freight and cannot reach over the barrier to get it, you have to be in the warehouse to pickup freight
Ducks — We love the ducks! They are cute and fun, but are they a scoring element beyond them falling from the carousel to the mat? Maybe we missed that in the rules, we'll check again and ask in the forum if needed.
No updated programming resources yet for Freight Frenzy, we'll keep checking GitHub
The field is not arranged in a diamond as the video from July suggested
FIRST released a One-Page Game Guide with helpful information in an easy format.
All FTC Game Materials can be found here.
We started by breaking down the game into scoring objectives and then what kind of mechanisms we would need to meet the objectives. Of primary concern is the drivetrain, the robot either needs to be built to go over the 1.25″ double barrier, or smaller than 13.7″ to fit around the barrier, or perhaps both. After confirming our current chassis design would not work, we started testing different chassis and wheel options.
In talking through the autonomous objectives, it seems like there's more strategy involved compared to last season, especially for in person events. We anticipate many versions of our auto code.
Of course along with building a new robot is the disassembly of our rookie robot Kermit. You can view our farewell post to Kermit here. Kermit has been stripped down to a chassis for testing only. We are waiting on a few parts to arrive, and then will begin on our all new robot, yet to be named.
---
9/14/2021 – Season Planning Meeting
We had a productive meeting. We decided on a tentative schedule for the season. We are moving our Tuesday night weekly meetings to Wednesdays, and for the beginning of the season we are adding Sundays. Our goal is to have a functional robot as soon as possible, so that we can then change back to weekly meetings until closer to tournaments.
Our new REV Driver HUB is now configured and Kermit is drivable with the new setup. The Rev HUB is cool. Larger touch screen, no USB hub, it can be charged while you're using it, and it was easy to update in the REV hardware tool or over wifi.
We are so excited for kickoff on Saturday. Our plan is to disassemble Kermit and spend a few hours brainstorming, strategizing, prototyping and planning after the kickoff broadcast. Afterwards, we're all going to the homecoming dance together.
---
9/11/2021 – Flathead Celtic Festival
We had fun volunteering at @flatheadcelticfestival today. We were asked to be the color guard ahead of the parade of clans. The "honored clan" this year was our first responders in honor of the 20th anniversary of 9/11. We also love to support our Lead Programmer Katie and Girl Scout Troop member Anna as they perform with An Daire Academy. We are so proud of them.
---
9/7/2021 – Girl Scout Cookie Donations
We had 3 separate days in the last 2 weeks where we took time to thank our #HometownHeroes by delivering donated Girl Scout Cookies. Every cookie season customers are given the option to donate cookies. Local Girl Scouts decide where to deliver the donations.
We visited Kalispell Fire Department, Kalispell Police Department, Veteran's Food Pantry, South Kalispell Volunteer Fire, Creston Volunteer Fire, Evergreen Fire, West Valley Volunteer Fire, Smith Valley Volunteer Fire and the Flathead County 911 Center. We also made arrangements for the Sheriff Deputies and Sheriff's Posse to have cookies in their command building during the Northwest Montana Fair. It was a great opportunity for us to learn about these different organizations and the services they provide, and share about what we do. Our visit to the 911 Center also helped us finish requirements for our First Aid badges.
---
7/13/2021 – Game Manual 1 released
Game Manual 1 was released today and can be found here:
Items we noticed in the rules:
Coffee Beans are still forbidden in robot build 🙂
7.3.1 <RG08> is still in the rules restricting the launching of game elements to 5 ft high and 16 ft out – maybe this was an oversight to remove it, or maybe we'll have another shooting game
1 external battery is allowed at the driver station to power the driver hub
A team scoring element is required, which must be larger than 3x3x4 and smaller than 4x4x8 and must have a team number visible at a distance of 12″ – more details to come in GM2
18″x18″x18″ is still the size limit, but there is no weight limit listed
Promote video theme: "If there was one thing I would tell my younger self about FIRST, it would be…."
In addition, a tournament queueing video released by FTC recently shows a different field arrangement from last season with the teams on adjacent sides and the the field diagonally oriented to the audience.
https://www.youtube.com/watch?v=OIkBkWIrc0Q
---
6/26/2021 – Glacier Children's Museum Family FUNday
Glacier Children's Museum has been a community dream and trying to get off the ground for a couple years. COVID certainly put a wrench in their plans. On June 26th, several downtown Kalispell businesses agreed to donate a portion of their proceeds to Glacier Children's Museum. We went downtown to lend a hand by providing edutainment for downtown shopping families.
Our robot is cool, but it really couldn't compete with the EPIC foam monster in attendance. Kids came in swimsuits and street clothes to run and play in masses of bubbles. In addition to demoing our robot, we helped with cardboard creations with MakeDo kits. Special thanks to Zia, Katie and Kennedy for enduring the 100 degree asphalt to share and play.
We believe in Glacier Children's Museum and hope their fundraising efforts and planning afford them a permanent location soon. We are thankful to Nature Baby Outfitter, Montavino, Norm's News, Western Outdoor for their donations to this worthy cause. In the meantime, Montana Children's Museum has traveling exhibits including one currently at the Lone Pine State Park visitor's center.
---
6/17-18/2021 – Helping out at FVCC Kids' College
Zia, Kennedy and Lexi helped out at FVCC Kids' College. There was a weeklong LEGO robotics class taught with FLL goals in mind. We helped for a couple hours on the last 2 days with robots and programming, and judged robot games and presentations. We hope all the kids had fun and learned a lot. There was even a parent interested in getting FLL teams started in the area. That would be awesome!
---
5/28-30/2021 – Teambuilding and Outreach Trip to Coeur d'Alene, ID
We had a fun outreach and teambuilding weekend. For Ultimate Goal we were the only Girl Scout FIRST team in Montana. We met up at Triple Play with the only Eastern Washington Girl Scout FTC team, RoboGirls #14822 from Spokane. The hotel let us have a conference room to share robots and brainstorm for the #FreightFrenzy season. All of us had fun together playing laser tag, bowling, VR games, climbing the ropes course, driving go karts and more. What a great way to cap off our awesome rookie season and get ready for the next challenge.
---
5/20/2021 – #FreightFrenzy game elements confirmed
Check out the FTC blog: https://firsttechchallenge.blogspot.com/2021/05/2021-2022-game-set-team-pre-order.html for information about FreightFrenzy game set pre-orders! Here's the AndyMark pre-order link: https://www.andymark.com/products/first-tech-challenge-freight-frenzy-pre-order
Yes, we will be (re)using waffle blocks and whiffle balls from seasons past. We don't have any, so we ordered a few just to have for brainstorming.
---
2021-2022 Season Theme Reveal
How exciting! Freight Frenzy is the name of the 2021-2022 FIRST Tech Challenge season.
---
5/6/2021 — New tech coming for #FreightFrenzy season!
A Rev Driver HUB to replace the Driver Station cell phone. This is nifty. Ports for everything we need (no more adapter and extra cables). OS specifically designed for FTC. Improved wifi capabilities. It will likely be $170 with FTC discount direct from REV. Get on the mailing list if you want to be notified when it's available to order.
---